Station: Interlochen, MI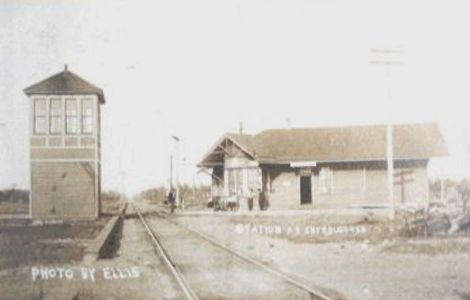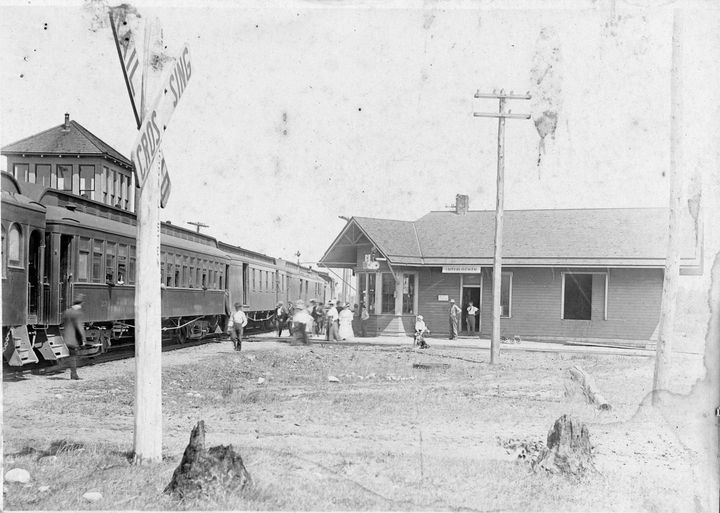 Interlochen was settled about 1890 as a crossing of the Manistee & Northeastern and the Chicago & West Michigan. The renowned Interlochen Art Academy, formally known as National Music Camp, was begun here in 1927.
Photo info/credit: Top, the crossing of both railroad lines in Interlochen, including the interlocking tower and union station. 2nd photo, the same location with a train taking on passengers around 1890. [Traverse Area District Library].
1906 improvements: A new water station was erected by the Pere Marquette here. [PMAR-1906]
---
1921. In the Matter of Complaint against the Pere Marquette Railroad Company and the Manistee & North Eastern Railroad Company for Failure to Install a Telephone in the Union Depot at Interlochen, Michigan. T-349. April 19, 1921.
Application having been made to this Commission for an order di reciting continuance of telephone service in the Union station at Interlochen, Michigan, in accordance with the provisions of Act No. 383 of the Public Acts of Michigan for the year 1913 and this Commission having caused said complaint to be investigated by John J. Norman, Chief Telephone Inspector, who has reported the result of his investigation to this Commission, together with recommendations, from which it appears that said depot is a Union station at the junction of the Pere Marquette and the Manistee and North Eastern Railroads and that said telephone should be continued for the benefit of the general public and the patrons of said railroad companies and is a matter of public convenience and necessity;
Now, THEREFORE, IT IS HEREBY ORDERED, By the Michigan Public Utilities Commission:
That, effective May 15, 1921, said Pere Marquette Railroad Company and said Manistee and North Eastern Railroad Company be and they are hereby directed to maintain a telephone in the Union station at Interlochen, Michigan, the same to be maintained until September 15, 1921, or until the further order of the Commission, said telephone to be connected with the telephone lines of the Grawn Telephone Company.
MICHIGAN PUBLIC UTILITIES COMMISSION