Station: Union City, MI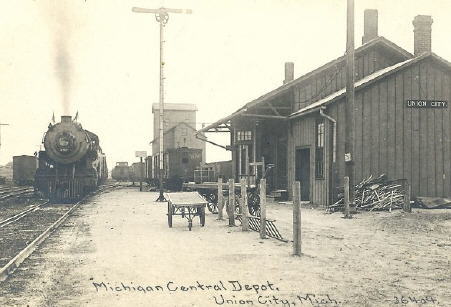 Union City was settled in the northwest corner of Branch County in 1826. The town gets its name from the "union" of the Coldwater and St. Joseph rivers unite here. [MPN] The town was a station stop on the Michigan Central's Air Line branch between Jackson and Three Rivers.
Photo Info/Credit: The Union City train station in 1912.
---
1920 - On the Michigan Central Air Line, this is a passenger and freight agency. Interline tickets are issued. J. C. Dunn is the agent. The telegraph call sign is "UY". [MCOAS]
The Peerless Portland Cement plant was located 3 miles north of Union City at Turtle Lake in Calhoun County. For a detailed descrition of thiss plant in 1903, to the Calhoun County station menu.
---
September 29, 1870 - The Air Line Railroad. From the Jackson Citizen. Yesterday ten car loads of iron arrived for the Michigan Air Line Railroad, and track laying between Union City and Homer will be resumed immediately. One half of the track between Concord and Jackson has been "balasgted," and is quite smooth. The company expects to earn the reputatio of having one of the smoothest roads in Michigan, as well as one of the most direct routes through the State. The village of Concord, in this county, is quite livelynow with railroad men. Everybody has boarders.
For a new road, mostly unballasted, it is very smooth near Homer. The fencing is in a fair state of progress, and telegraph poles are already being put up along the line. The passenger house at Homer is being pushed rapidly forward. The bridging and grading in Clarendon are now completed, and the iron from Homer to Tekonsha, to which place it is laid from th west, will be soon united. [DFP-1870-0929]