Location: Ray, MI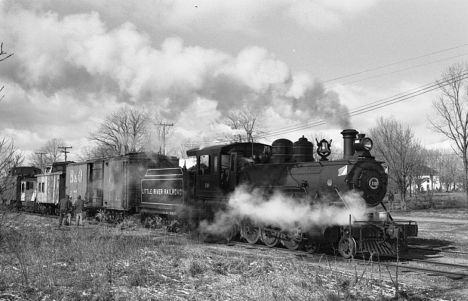 Ray is a hamlet which is mostly located in the State of Indiana, however several streets head north across the state line into Branch County in Michigan. Ray was a station on the LS&MS' Fort Wayne Branch from Jackson to Fort Wayne, Indiana.
Photo info/credit: Little River Railroad 110 pulles a passenger special through Ray, eeting Hillsdale County railroad 1600 at the passing track. In the early 1980's. 2nd photo, another photo nearby in Ray. [Both, Doug Leffler]
---
1920 - From complaint filed in this matter, it appears that the New York Central Railroad, in direct violation of the laws of Michigan, has closed its station at Ray, Michigan, without first petitioning this Commission for authority to do so; and by so doing has compelled the patrons of its railroad at Ray, Michigan, to be exposed to the elements while waiting for its trains.
It further appears that upon request of this Commission the New York Central Railroad and the citizens of Ray, have had a meeting on this matter, at which meeting it was agreed that it would be satisfactory to the patrons of the said railroad at Ray, if the station were kept open and properly heated to afford shelter while waiting for the trains of said railroad.
THEREFORE, IT IS HEREBY ORDERED : That you, the United States Rail road Administration, New York Central Railroad, and you the New York Central Railroad Company, forth with cause your station at Ray, Michigan to be kept open, clean, well-lighted and warm for the accommodation of the traveling public, until the further order of this Commission.
MICH IGAN PUBLIC UTILITIES COMMISSION