Station: Alger, MI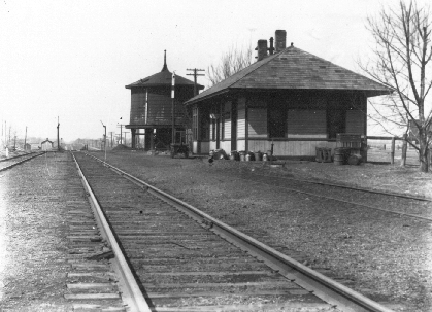 Alger, in Arenac County, became a station on the Michigan Central Railroad when the Detroit, Bay City & Alpena railroad came to town to provide for an interchange of their line. The DBC&A became the Detroit & Mackinac railroad, which later changed their terminus to North Bay City and removed the connection.
As the photo indicates, this station had a large water tower and standpipe next to the MC main line. The photo also appears to show either a second standpipe or some type of semaphore signal. Use of such standpipes for a town the size of Alger would be unusual, but may be related to the early D&M operation. The date of the photo is not known. (The line was a manual block route so the reason for the signal is not known).
In 1871, this may have been known as Rifle River Station. The Alpena Argus reported that a hotel was built in 1871 at "Rifle River Station".
See also Wells, MI.
---
Timeline:
Roundhouse Moved - 1899 - The Michigan Central railroad is tearing down its roundhouse at Alger and will move it to Grayling. [Ironwood Times-1899-0513]
September 26, 1896. Through the breaking of connection between the Michigan Central and Detroit & Mackinac railroads, the once flourishing Village of Alger is to be given a body blow. The Detroit .. Mackinac will abandon and take up the track from Prescott to Alger, and the Michigan Central will shut up the union depot. [DFP-1896-0921]
1917. The MC has an agent/operator on the day and night shift here. [TRT]