Station: Wayland, MI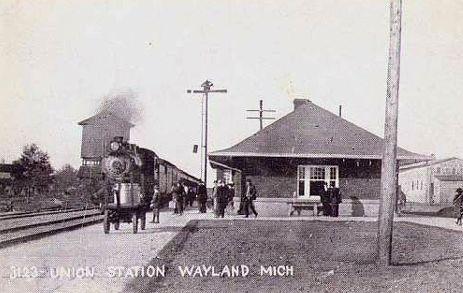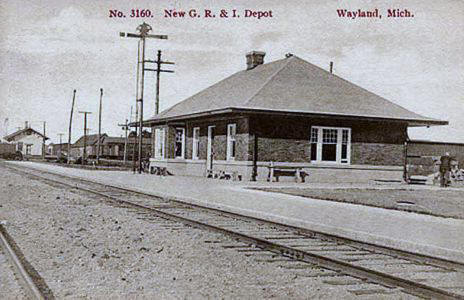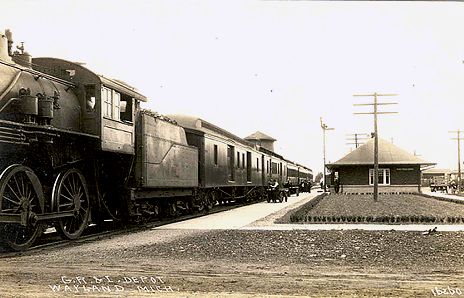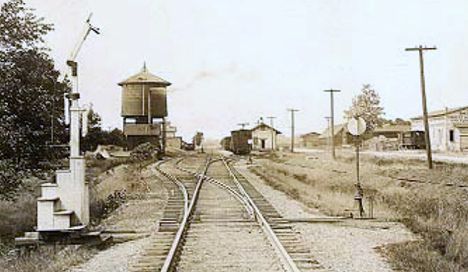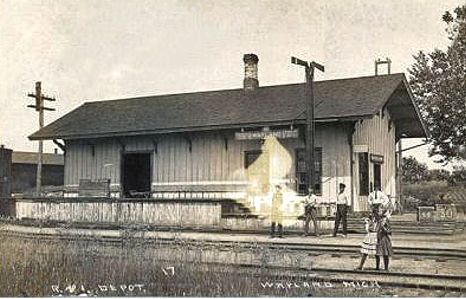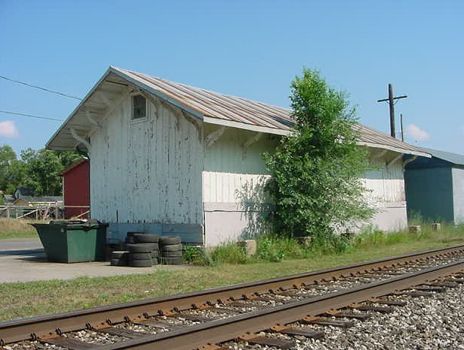 Wayland was founded in 1836 as a sawmill town in Allegan County. It became a station stop on the Grand Rapids & Indiana between Kalamazoo and Grand Rapids and also had an interurban line through town.
Photo Info/Credits: Top two photos, a GR&I passenger train stops at the depot. Called a "union" station, it may have served the interurban line as well. Note the water tower on the left. The station semaphore indicates that all trains must stop and await train orders from the station's telegraph operator. [Alan Loftis collection]. Photos 3-4, both early views of Wayland, with an older depot or freight house. The device at the left of photo 4 is perhaps a mail bag delivery device. Photo 5 is of an older depot. Bottom photo, a 2003 photo of the old depot/freight house. [Alan Loftis]. Last photo, the Interurban railroad depot at Wayland with a stopped train. [Mark Worrall collection].
---
Industry:
A.D. Hughes Co. rebuilt flour mill machinery (GR&I) 1921
Business Men's Paper Press Co. press manufacturing (GR&I) 1921
Helvetia Milk Condensing Co. evaporated milk (GR&I) 1921
Henderson Milling Co. flour (GR&I) 1921
Hunsberger & Bowman Coal & Lumber (GR&I) 1921
John Myers, oil & gasoline station (GR&I) 1921
Libby McNeill & Libby pickle station (GR&I) 1921
Wayland Farm Bureau cooperative (GR&I) 1921