Location: Tunnel Yard, Dearborn, MI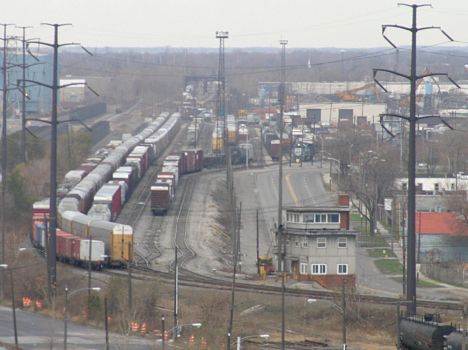 Rougemere Tower is the commonly used name for the yardmaster tower at CSX Rougemere Yard in southeast Dearborn.
Photo info: Top, an overhead view of Rougemere Yard, looking north (west) from the south end. The tower at the bottom right is the former Tunnel Yard tower, most recently occupied by CP Rail but now unused. [Dale Berry]
Tunnel Yard was located along the Pere Marquette main line, just south of Rougemere Yard. This yard, which had a small number of long tracks extended north from Fort Street to about Dix Avenue in south Dearborn. For a time through about 2010, this yard was used by CP rail. A three story yard office with tower is located here but not currently occupied. There are 112 marine employees in the C&O service at Windsor and Detroit and of these approximately 30 will be transferred to Port Huron for operations in that area. [WSTAR-1955-1202]
Location: 42o17.672'N / 83o08.589'W.
---
Time Line
1955. The operations at the boat yard in Detroit will be transferred to Rougemere Yard, in Detroit, where the C&O is constructing a new three-story yard office and yard master's tower and improved diesel servicing facilities. Also to be installed are new and modern icing facilities to handle meat, fresh fruits and vegetables. The last run of the C&O acr ferries at Windsor occurred Thursday (December 1, 1955), with the first train using the railway tunnel facilities about 4:00 p.m.