Interlocking: Schaefer Tower, Dearborn, MI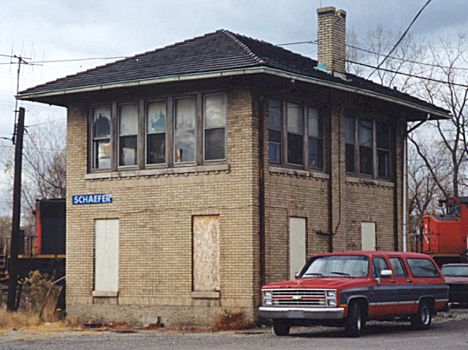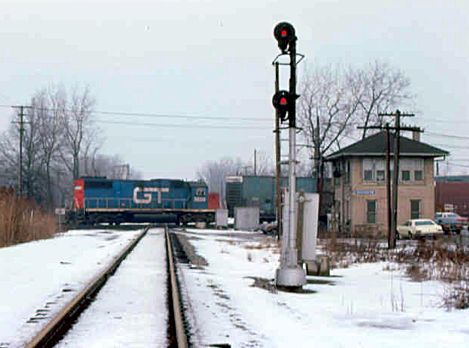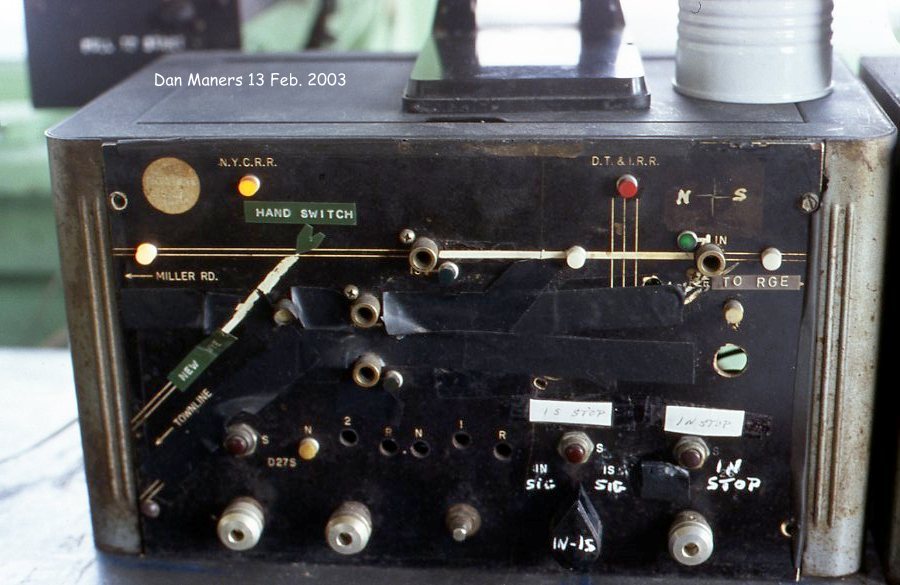 Schaefer Interlocking Tower was located at the crossing of the Michigan Central's Junction Yard branch (Junction Yard to River Rouge) and the DT&I's line to the Ford Rouge complex from near Flat Rock. This tower was staffed by a MC leverman. Over the years it was reduced to day-only staffing and then the location became a radio-controlled electronic interlocking. The tower has been torn down.
Photo info: Top, a close up view of Schaefer Tower in 2000. [Nathan Nietering]. 2nd photo, Schaefer Tower looking north with a Grand Trunk Western engine switching the Ford Rouge plant across the diamond. 1986. [Charlie Whipp]; 3rd photo, the model board which controlled the wye switches to Junction Yard or Town Line (near Rotunda St.) and 4th photo, the lever frame and pistol grip levers inside the tower, both in 2003 (both Dan Maners]
Location: 42o18.267'N / 83o10.595'W.
---
Additional Information:
"Levermen" operated interlocking towers within the MC Detroit terminal. Levermen did not handle train orders. They took their orders from the MC Detroit yard dispatcher or yardmasters. Schaefer was a fairly simple tower with one leverman on duty. Other towers like West Detroit may have had two levermen on duty on most shifts as well as a "train director" who called out the routes which were lined up on the plant by the leverman. Other leverman towers in Detroit included 15th Street, 20th Street, Bay City Junction, Beaubien and Milwaukee Junction. Pleasant Street (YD), Town Line, North Yard, Trenton (FN) were staffed by "operators" who handled train orders as well as interlocking line ups.
---
Time Line
April 1925: The Michigan Central orders an interlocking plant and tower at it's Schaefer Road crossing with the DT&I. [RR-1925-0411:716]
1935: This tower communicated on Grade Line No. 4 (3 long, 1 short). Also on this grade line were Miller Road Yardmaster (2 long, 1 short), Livernois West Bound Hump Yardmaster (4 short), Livernois Westbound Train Yard Yardmaster (2 short), Victoria Avenue Tower (1 long), YD Tower (1 long, 1 short, also known as Pleasant Avenue Tower), and Town Line telegraph office (1 short, 1 long, 1 short). [ MC Detroit Terminal Timetable No. 76]