Drawbridge: DT&I Short Cut Canal Drawbridge, River Rouge, MI (DT&I-DC)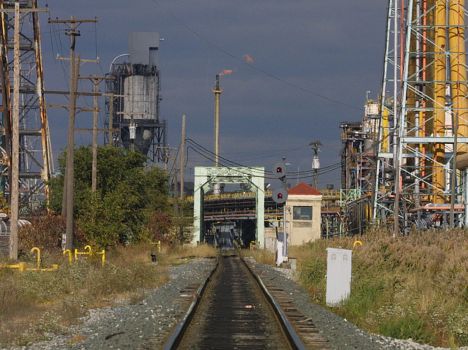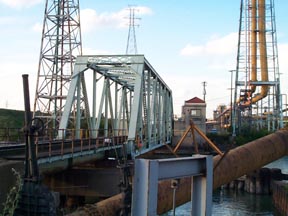 Henry Ford reportedly paid for the construction of this bridge which allowed for the creation of a short cut river canal for the Rouge River, allowing large freighters to access the Rouge complex upstream. The bridge used by the DT&I to access their station in Delray crossed here.
The original bridge at this location was a 61 foot steel through girder bridge, 3 1/2 meet above water level. The river was eight feet deep at this location. This bridge was swung by hand. [MCR-1904]
This second bridge is a bascule bridge which was built in 1922. Modifications were made to it in 1950. It is owned by the National Steel Corporation and operated by the Delray Connecting Railroad.
Photo info: Top and 2nd photos, 2003 views of the Delray Connecting's Short Cut Canal draw bridge, tower and interlocking signal. This photo is taken in a northeast direction and the Zug Island industries are in the background. this track was originally the Detroit, Toledo & Ironton's main line north into the Delray area of Detroit. The line crossed Zug Island, then turned north and crossed the narrow Rouge River, before ending in a yard east of what is now Delray tower. [Dale Berry]. 3rd photo, the Bridge and interlocking tower in 1972. [Charles Geletzke Jr.]
---
Time Line
1918: The DT&I had operators on duty around the clock at this location. [TRT]