Location: Rougemere Yard, MI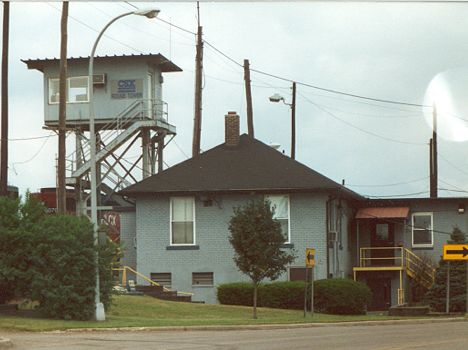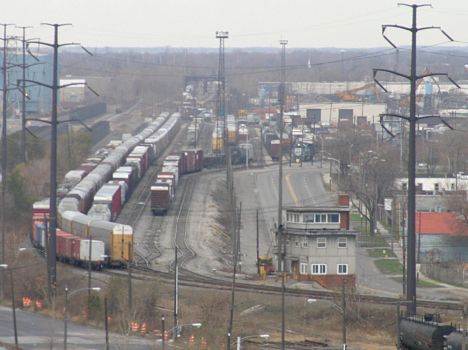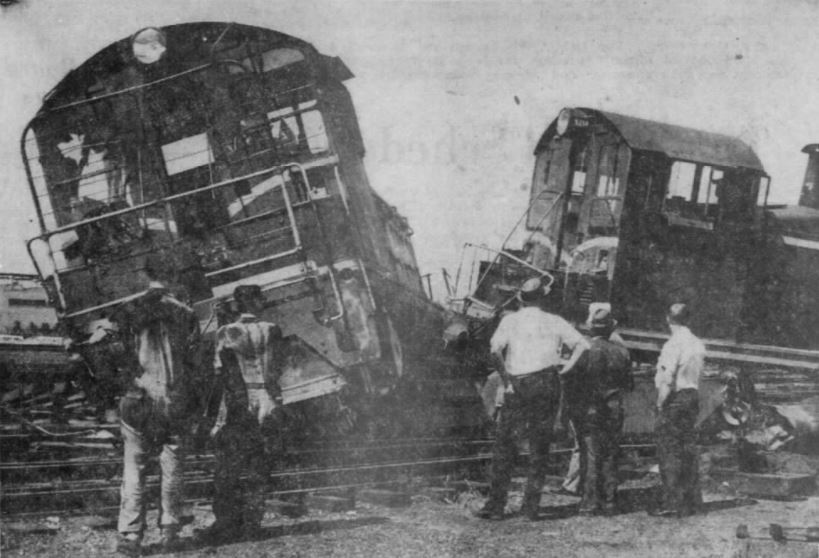 Rougemere Yard was a Pere Marquette flat switching yard in southeast Dearborn near the Ford Rouge complex. This was the main PM originating yard in the Detroit terminal. The yard was fairly short, from Eagle Avenue on the north to Dix Avenue on the south and about 14 tracks wide. At the north end of the yard, "Rouge Telegraph" tower discharged northbound trains with the appropriate orders. The yard still exists in 2021 under CSX ownership and the yard office is in a 3-story tower at Dix Avenue.
Photo info/credit: Top, the CSX Rougemere Yardmasters tower and associated yard offices. 2002. [Dale Berry] 2nd photo, an overhead view of Rougemere Yard, looking north (west) from the south end. The tower at the bottom right is the former Tunnel Yard tower, most recently occupied by CP Rail but now unused. [Dale Berry]. 3rd photo a 1963 derailment in Rougemere Yard, with EMD switchers uprighted. [DFP-1963-0827]
Location: 42o18.251'N / 83o08.985'W.
---
1905 improvements: The PM builds a new ice house at Rougemere. [PMAR-1905]
1963. Troubles plague C&O officials as they sought to untangle four locomotives that collided in Rougemere yards opposite the Ford Rouge plant in Dearborn. One engine, pulling two others and 38 cars, plowed into a standing locomotive that also had a string of freight cars behind it. All four locomotives and 300 feet of track were turn up. No one was injured. [DFP-1963-0827]