Location: MC/NYC Coal Stockpile, Dearborn, MI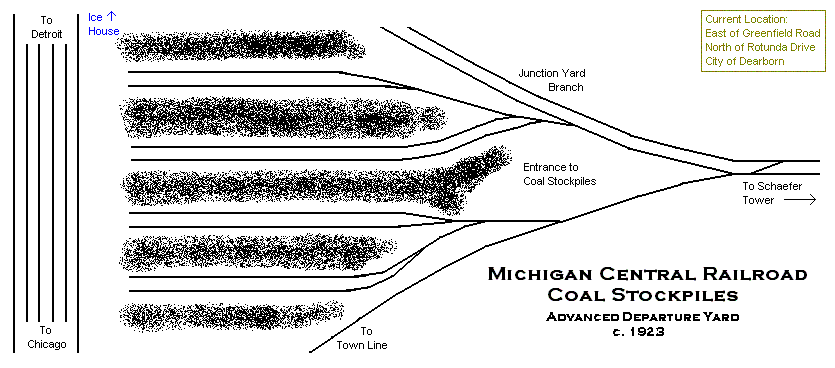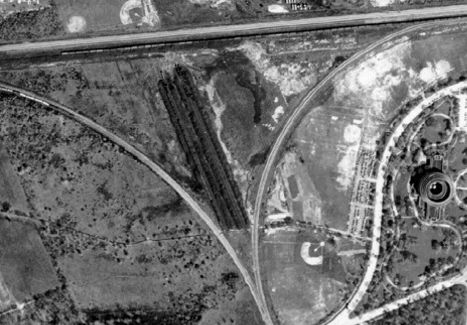 Shortly after the Junction Yard branch was constructed next to the Rouge Plant in the late 1910's, the Michigan Central used the triangle between the Main Line, the Junction Yard Branch, and the wye to Town Line for coal storage. According to maps in the State of Michigan Archives filed by the Michigan Central Railroad with the State Railroad Commission, the coal stockpile yard was rearranged in an organized fashion in the summer of 1923, to include eight stub tracks for coal loading and unloading. The four west tracks came off the wye between Schaefer Tower and Town Line signal office. The four east tracks came off the Junction Yard branch. The tracks went north and dead ended into the MC's Advanced Departure Yard. There was also a ice house and icing facility near this location. The largest coaling facility for locomotives on the Michigan Central in the Detroit area was in Livernois Yard, between Central Avenue and Livernois Avenue. Locomotives were no doubt filled at other locations in the Detroit Terminal as well. The coal stock piles were probably used until the early 1950's, when the NYC rapidly dieselized its fleet.
Photo info: Top, a drawing from a map in the State of Michigan Archives depicting the coal pile area in 1923. [Dale Berry] 2nd photo, an overhead view of the coal stockpiles between the NYC Advanced Departure Yard (north), the old/new wye (left) and the Junction Yard Branch wye (right). It is unclear how many tracks remain into the stock piles at this time. The Ford Rotunda can be seen at the far right of the photo. [Detroit Edison Company aerial photographs, 1949, Wayne State University Collection]
Location: 42o18.770'N / 83o10.958'W.