Grosse Isle, MI - Railroad Bridges
Grosse Isle was the home of the original Canada & Southern railroad line from Ontario through the island and then onto the Michigan shore. The railroad had two notable railroad bridges.
A westbound trip from Canada started from Amherstburg on a short railroad car ferry trip, crossing the main navigational part of the Detroit river and ending at a small island called Stony Island. After removing the cars from the ferry, a train proceeded across a fixed, wooden double Howe truss bridge to Grose Isle itself. The Grosse Isle train station was on the east edge of the island, as was a small yard and U.S. Customs house. Then a quick trip west across the island took you to a moveable bridge (see below) to cross over to the main land.
This railroad crossing and line was an original attempt by the C&S to reach Chicago. Tracks were laid as far as Fayette, Ohio (via Flat Rock, Maybee, Dundee, Deerfield and Morenci) but graded even farther. The line had money problems from the onset of the build out. When the stock price sank, Vanderbilt interests purchased the C&S and took control, abandoning plans to finish the line and removing it from competition with their Lake Shore & Michigan Southern air line, Old Road, and the Michigan Central line from Detroit to Chicago.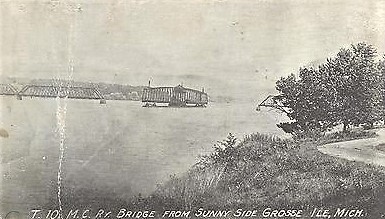 However, this connection between Grosse Isle and Amherstburg continued to serve the Michigan Central as a bridge route over the Detroit river until the Detroit-Windsor rail tunnel was built in the 1900's. The line was kept in place until it was removed in the depression.
Photo Info: This is an old photo of the Canada Southern railroad swing bridge between Grosse Isle and Trenton. When the railroad line was removed, this bridge was reportedly moved to the Rouge River and used for the DT&I between Zug Island the Delray (near Fort Street and Dearborn Avenue).
---
Time Line
1885. A double drowning accident occurred about 9 o'clock yesterday morning at the Canada Southern Bridge, Grosse Ile. Arthur Brolie, son of P. P. Brodie, agent of the Michigan Central railroad at that place; Allen Baby, of Detroit], Miss Edith Jennings and a young man named Thompson were in a hand-car going from Slocum's Junction to Grosse Ile. The draw on the bridge which connects with the main land was opened by the attendant who was unaware of the approaching hand-car which was making rapid headway. Miss Jennings and Thompson saw the danger and saved their lives by jumping off. The car ran off the opening into the water, carrying Brodie and Baby with it. They struggled a short time in the water and the railway employees set about to rescue them, but were unable to reach them before they disappeared. [DFP-1885-0509]