Location: Foreman Wye, Detroit, MI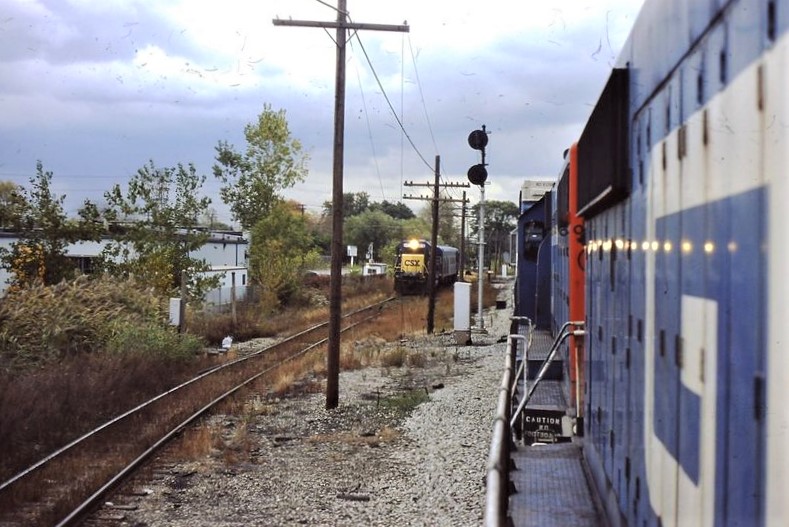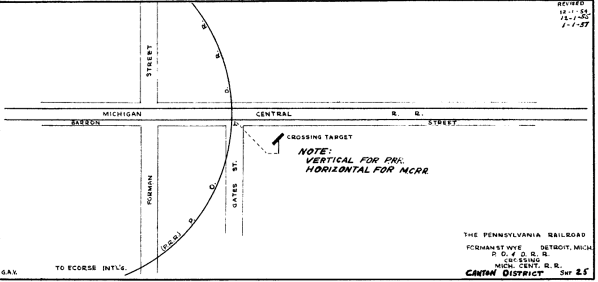 The Foreman Wye was constructed by the Pennsylvania Railroad came to Detroit in the early 1920's. The wye left the Wabash main line (Detroit to Montpelier, OH) just east of the Rouge River drawbridge, going northwest to the Pere Marquette main line (Detroit to Chicago) north of Delray. The Foreman Wye also crossed several MC industrial tracks about mid-wye. The south leg connection of the wye was controlled by the bridge operator.
This wye allowed PRR trains leaving Lincoln Yard via the Wabash, access to the Union Belt which went north off the PM at P-Company Junction in east Dearborn. From here, the PRR accessed industries in northwest Detroit as well as the Highland Park area.
Photo info: Above, GTW 6425 heads south on the NS approaching the Wabash drawbridge, with a CSX train waiting on the Foreman Wye to the left. [Charles Geletzke Jr. photo]. Below, a map of the crossing diagram of the Forman Street grade crossing of the Pennsylvania Forman Wye and the Michigan Central's industrial spur, updated to January, 1957. The Forman Wye allowed the PRR to access Pere Marquette's Rougemere Yard and points beyond, including their industrial branches in East Dearborn and the Union Belt trackage in northwest Detroit. The Michigan Central line serviced industry on the east bank of the Rouge River just south of Fort Street. Originally, this MC route was part of the Detroit, Delray and Dearborn Railway which was wholly owned by the MC. The DD&D went from Delray to approximately Brady Avenue in West Dearborn where it joined the MC's main line. The branch was pulled up west of Melvindale, when the MC Junction Yard branch was built and the river was widened to accommodate Rouge boats. In 2000, the DD&D is almost completely gone, except for a few remnants.
Location: 42o17.499'N / 83o08.179'W.