Location: Detroit, MI - Avery Avenue (Corn Sweetener)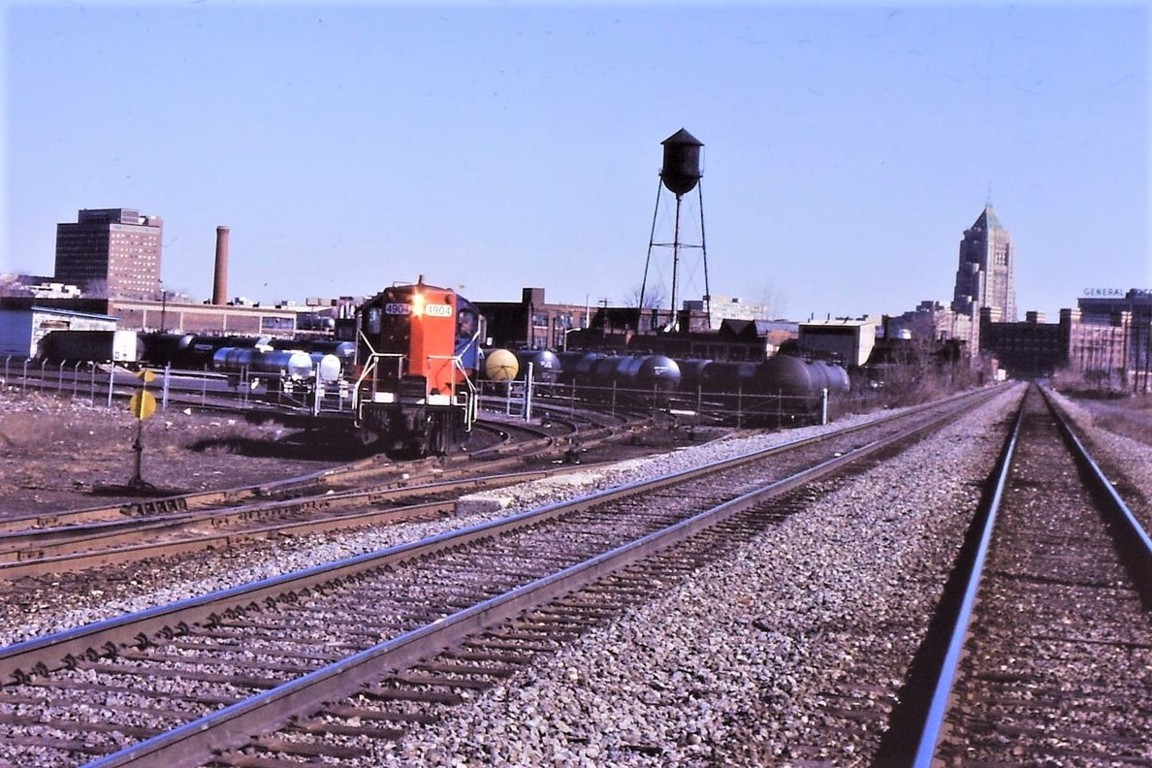 Avery Avenue had a GTW freight house which became the Corn Sweetner office after 1975.
Photo Info/Credit: GTW 4904 switches the "Corn Sweetner" at Avery Avenue in Detroit in 1985. [Charles Geletzke Jr.]
---
Note about the Photo: In the background was the Avery Ave. Freight House, which became the "Sweetner's" office...adjacent were originally all team tracks. Tank car loads of primarily liquid sugar were brought in by rail, transloaded to trucks and distributed locally to bakeries, breweries, soft drink bottlers, food producers, etc. When this GTW facility opened (I believe in 1976), it was the highest revenue producer (per car) on the entire GTW! I believe it closed in the early 1990's. Through the late 1960's there were three jobs just servicing the industries between Milwaukee Jct. and West Detroit around the clock (not counting the interchange at West Detroit)...today there are no industries located on this portion of the CN at all! From Charles H. Geletzke, Jr. via Facebook.
Additional Information from Charles Geletzke: 1991 and the "Corn Sweetener" was still in business on the GTW in Detroit, Michigan. The location was Avery Avenue, which was formerly just a freight house and team track. When the Sweetener was established in 1976 it was the highest revenue per car operation on the entire GTW. Corn syrup was brought in by tank car and transloaded to trucks and delivered to the local bakeries, bottlers, breweries, etc. At that time the neighborhood was not the greatest. You might notice the bright orange partitions next to each trailer's set of wheels...every trailer was parked between a set of these partitions so that the wheels and tires would not be stolen! This was a difficult industry to switch because it was all downhill going in there. The first time I switched it, I turned a tank car on its side.