Location: Delray, MI - Wabash Roundhouse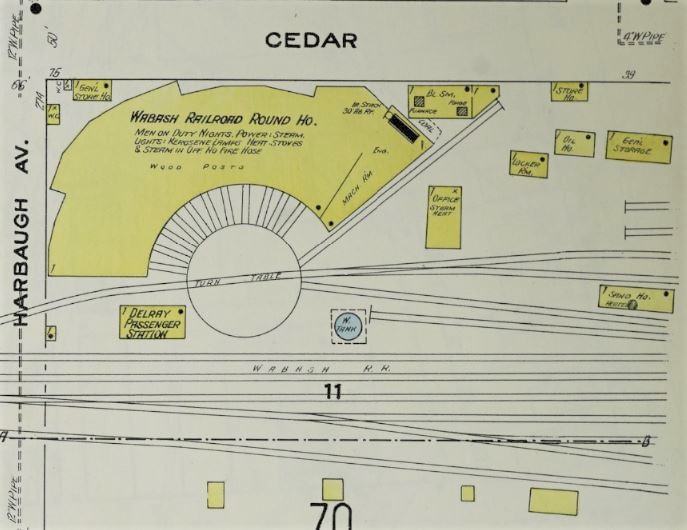 During the steam era, the Wabash had a roundhouse just easy of Delray interlocking, on the north side of the Union Belt railroad. This is the current location of the I-75 overpass.
Photo Info/Credit: A map of the roundhouse from the 1910 Sanborn Insurance Maps. [SBM-1910]
---
Comment from Peter Dudley:
Wabash, St. Louis & Pacific Railroad (aka Wabash & Western, later Wabash Railroad) built a small ten-stall roundhouse, shortly after the railroad's 1881 arrival in Detroit.
This engine terminal was later replaced by a 40-stall roundhouse, located closer to Delray Junction. Both facilities were located north of the Wabash (later Union Belt of Detroit) mainline.
The newer roundhouse was demolished during the 1950s -- the site was included in today's Fisher Freeway (I-75) alignment.
The original roundhouse was located east of Harbaugh Street, and south of Cedar Street, which no longer exists (1889 Sanborn map, slightly-shopped). The facility also appears on an 1884 Sanborn map.