Station: Delray Union Station, MI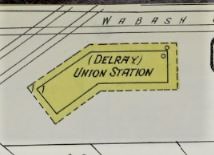 Delray Union Station was at the crossing of the Union Belt (Wabash & Pere Marquette) and the Michigan Central and Lake Shore & Michigan Southern lines in what is now known as southwest Detroit. This crossing is controlled from the Delray interlocking.
The depot, which is shown on the 1910 Sanborn insurance map was just east of Delray Tower and was in the southeast quadrant of the crossing. It had fronts on all four lines. Further research about this station is required about when it was built, discontinued and torn down.
Delray was an independent village around the turn of the 20th century, before being annexed by the City of Detroit.