Tunnel: Detroit-Windsor International Rail Tunnel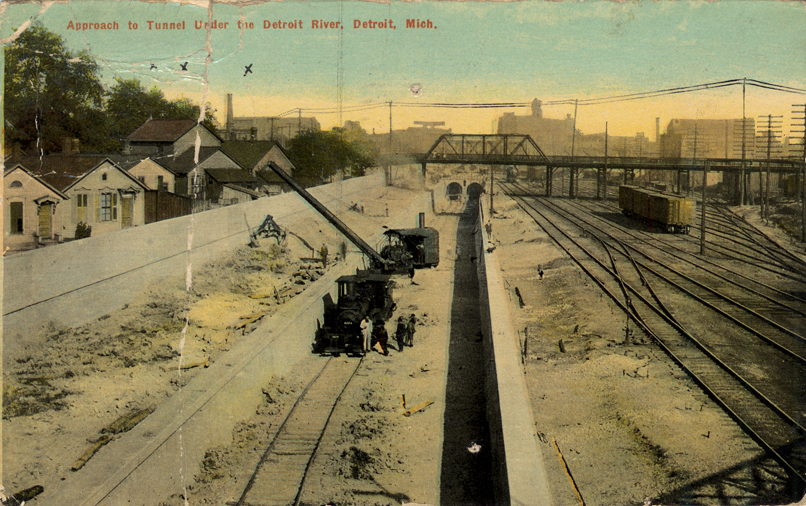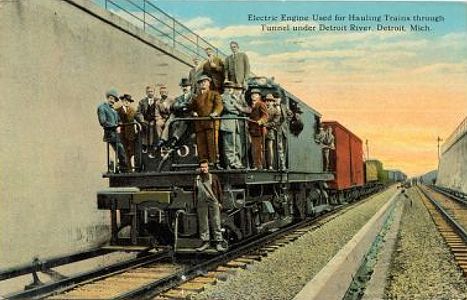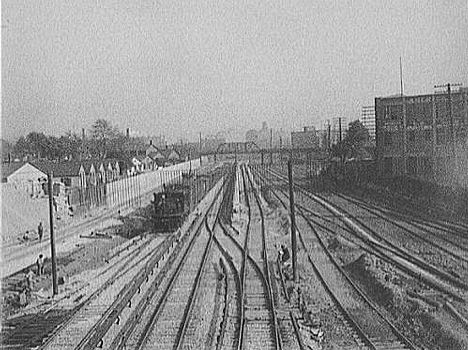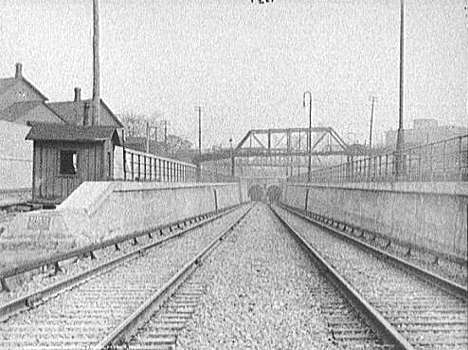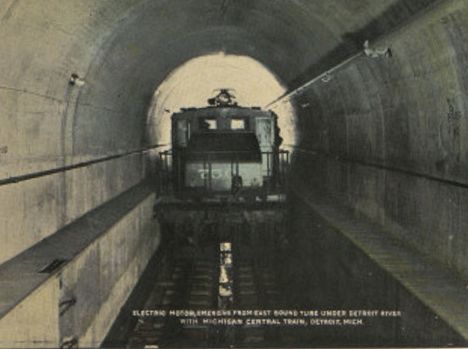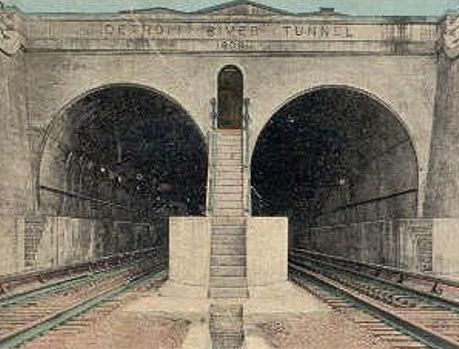 The Detroit-Windsor International railroad tunnel was built by the Canada Southern railroad (Michigan Central) opening in 1910. Prior to the opening of this tunnel, passenger and freight cars were ferried across the river nearby and at Grosse Isle (downriver).
The west (U.S.) portal of the tunnel was located near Porter Street at the east end of the Michigan Central passenger station. It was controlled by the 15th Street interlocking tower.
Photo info/credit: Top, the new tunnel under construction. 2nd photo, a crew pauses for a photo on a tunnel electric locomotive in a postcard view, early 1910's. 3rd photo, two passenger trains approach 15th Street interlocking, at the west entrance to the international tunnel and the east entrance to the new MCRR station on Vernor. The steam engine approaches from the old Third Street station, while the electric motor unit pulls its train from Windsor, Ontario, Canada. 4th photo, a similar photo taken in the winter. 56h photo, the west entrance to the double tubes of the tunnel. 6th photo, a motor pulling through the tunnel. 7th photo, a view of the entrance to the double tube tunnel. [
Dave Fulkerth collection]
Other Information:
1935: 600 Volt Direct Current third rail is installed from Bay City Jct. interlocking plant through the passenger station yard to Vermont Street, and through the tunnel to the east limits of Windsor Tower 2 and Tower 3 interlocking plants. Overhead contact rail is installed in the main train shed and in the passenger station yard between the train shed and the west approach to the tunnel. Equipment conforming to standard N.Y.C. clearances for electrified territory will clear. [MC Detroit Terminal Employee Timetable No. 76]
Portal Location: 42o19.479'N / 83o04.187'W.
Tunnel Construction:
Photo info/credit: Top, a section of the new tunnel being floated down the river to the permanent location. 2nd photo, the original sinking of the Detroit-Windsor Railroad Tunnel Tubes. [Both, Alan Loftis Collection]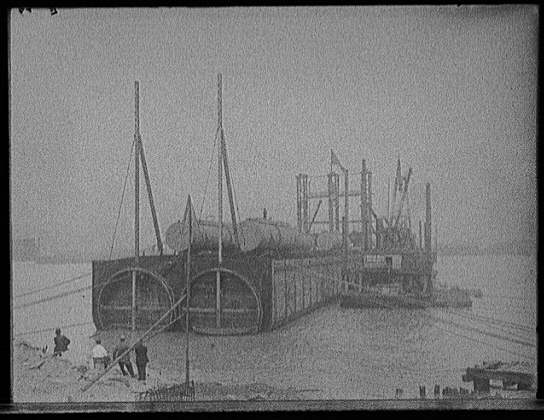 ---
The Men Who Will Build The Tunnel Under The Detroit River - 1905
The construction of the Detroit tunnel line from Windsor, Ontario to West Detroit yard, Michigan including the electrification thereof, is placed in charge of an advisory board of engineers consisting of William J Wilgus, vice president of the NYC&HRR, Mr. Howard Carson's, consulting engineer and Mr. W. S. Kinnear, chief engineer of the Tunnel Company.
The chief engineer will be in direct charge of construction, reporting to Mr. H. B. Ledyard, chairman of the board of directors, on executive and financial matters, and to the board of advisory engineers as to plans, specifications and methods of doing the work. [DFP-8-5-1905]
December, 2020: Canadian Pacific acquires full ownership of the Detroit River rail tunner from OMERS for a reported $312 million. In 1995 Conrail sold the tunnel to CN and CP. CN sold its share in 2000. About 400,000 railcars used the tunnel annually. [R&R-2020-12]