Interlocking: Dearborn Avenue, MI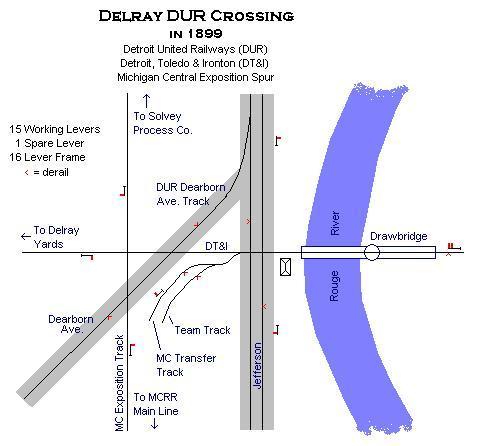 Dearborn Avenue was a crossing of the DT&I main line to West End Avenue in Delray, the Michigan Central Exposition Spur, and the Detroit Street Railway Crossing which ran up Dearborn Avenue. This location is about 1/4 mile southeast of Delray Interlocking along Dearborn Avenue.
This crossing, along with the DSR crossing of the DT&I on Jefferson Avenue, was controlled through an interlocking in a tower called Jefferson Avenue which also controlled the DT&I bridge over the Rouge River from Zug Island. This interlocking existed from at least 1899 according to drawings at the State of Michigan Archives.
Photo info/credit: Above, the interlocked crossing of the DUR interurban line and the DT&I. The DUR had a double-tracked main line down the middle of Jefferson Avenue. A branch of the DUR left their line going down Dearborn Avenue enroute to Fort Street and the Woodmere area. The DT&I main line, which came up from Flat Rock, went through what was later Zug Island, crossed the Rouge River via a swing drawbridge, crossing the DUR, and the DUR Dearborn Avenue branch. The DT&I then crossed the Michigan Central's Exposition Spur, before going to their yard and depot. The MC Exposition Spur served the City's Exposition Grounds near Zug Island, as well as the Solvey Process Company. The entire area was interlocked and controlled from a tower on Jefferson Avenue. This track diagram depicts the crossing in 1899, and was drawn from blue prints in the State of Michigan Archives in Lansing. [Dale Berry drawing]
Location: Jefferson Avenue Crossing - 42o17.408'N / 83o07.116'W.
Location: DT&I/Exposition Spur Crossing - 42o17.493'N / 83o07.168'W.