Station: Dearborn, MI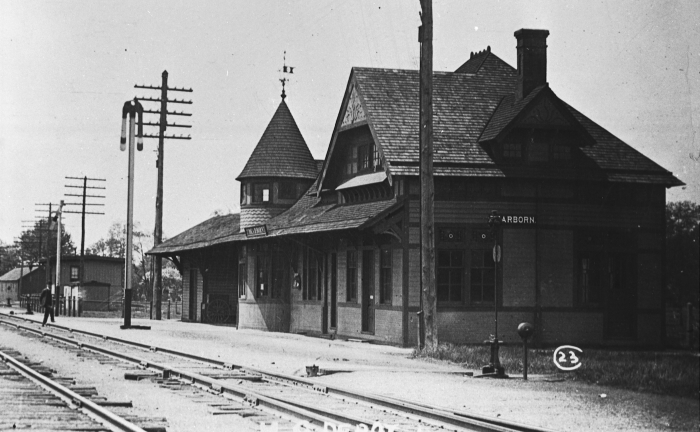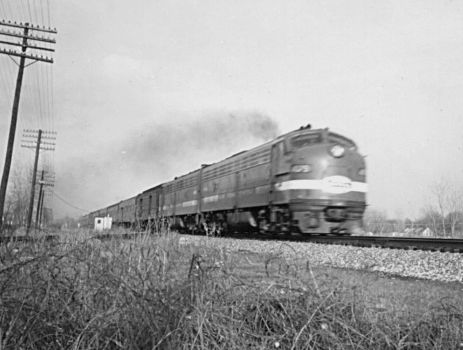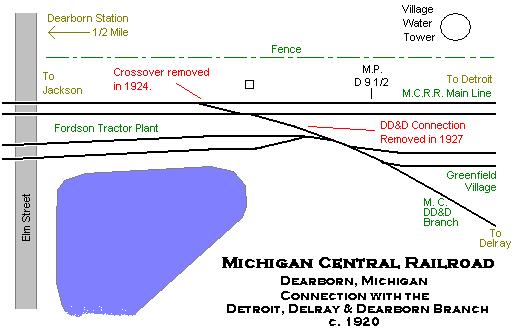 Dearborn was settled about 1789. In 1826, Conrad Ten Eyck built a tavern here along the road to Chicago. The early town was known as Ten Eyck, Bucklin and Pekin, and renamed Dearbornville in 1833. The town received its Dearborn name in 1875. Dearborn was incorporated as a village in 1893 and a city in 1927. In 1928 it absorbed the City of Fordson, which was formally known as Springwells. [MPN]
Dearbornville was a station stop on the original Central railroad line (later MC/NYC/PC/Conrail/NS) nine miles west of the MC's Detroit riverfront station.
Photo info/credit: Top, the Dearborn village train station was located south of Michigan Avenue near Monroe Street in an area now known as "west" Dearborn. [Mark Dobronski collection] 2nd photo, the NYC's Twilight Limited is westbound at Dearborn in the 1960's. [Eugene Burrell photo, Nathan Nietering collection]. 3rd image, a map of the junction of the MC main line and their Detroit, Delray & Dearborn branch which ran from this location to the River Rouge area at YD Tower. Ford built a tractor plant at this location in the early 20th century. Greenfield Village was also constructed east of here in the late 1920's. The DD&D branch was removed after the Junction Yard branch was built. The DD&D right of way crossed through the middle of what is now the Ford Engineering Test Track, also an airport in earlier days. Drawing from blueprints at the State of Michigan Archive.[Dale Berry]
---
Further Information:
Dearborn, Michigan was located about 10 miles west of the original Michigan Central 3rd Street Station in Detroit. At the time of the building of the Central route by the State of Michigan in the early 1830's, Dearborn was a stage coach stop on the federal highway which connected Detroit with the Chicago area. The area boasted a small garrison for the U.S. Army and the area near what is now known as Michigan Avenue and Monroe Streets was home to a commandants quarters, armory, and other buildings.
The station pictured here was located south of Michigan Avenue, near Monroe Street which is actually now known as West Dearborn. In the 120 or so years that the depot or a predecessor existed, Dearborn was an important point on the Michigan Central. The area was double tracked here in the late 1800's and each direction had its own passing siding of over 100 cars, some of the longest on the Central. In the early 1900's, a junction switch was installed for a cutoff track which allowed eastbound trains to bypass the Detroit terminal area (the Detroit, Delray and Dearborn branch, see below). This branch was discontinued around 1920 when the Junction Yard branch was installed to serve the Ford Rouge plant.
1920 - On the Michigan Central, this is a passenger, freight and express agency joint with the American Railway Express Company. W. J. Phipps is the agent. The telegraph call sign is "DN". [MCOAS]
The Dearborn station was finally torn down and not replaced in the 1950's.
---
1917. This station was staffed during the day by an agent/operator. [TRT]