Station: Central Railroad Depot, Detroit MI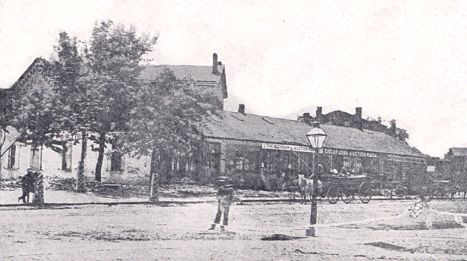 The State of Michigan funded and owned what is known as the "central" railroad line which extended from downtown Detroit out along the Chicago Road (later Michigan Avenue) to Ypsilanti, Ann Arbor and Jackson. The line was later purchased by the Michigan Central railroad. The original depot in Detroit was built downtown. It was later moved under MC ownership to Third Street near the Detroit River.
Photo info: The original "central" railroad depot on Michigan Avenue in downtown Detroit. [Burton Historical Collection]
---
Time Line
1836. The City of Detroit permitted the Central Railroad, then owned by the state, to occupy the northerly part of the present city hall site, for a railroad station. The track ran down Michigan Avenue and the station was on the southerly side of that avenue. The railroad buildings were on the south side of Michigan Avenue and the repair shops were on the Woodward Avenue side, nearer Fort Street.
1838. January. The citizens petitioned the city council to continue the track down Woodward to the public wharf, and on February 5, 1838 the council passed a resolution allowing the railroad company to make a cut down Woodward to accommodate the tracks. Private tracks were laid in Atwater Street to connect with the Woodward line. However, the latter line was not used to any extent, and was abandoned in 1844. [HWC]
1847-1849. The railroad, as a state institution, was a failure and the state disposed of it to the Michigan Central Railroad Company in 1847. Between 1847 and 1849, the railroad tracks were taken up and diverted to the foot of Third Street.