Location: 12th Street Freight Terminal, Detroit, MI (Wabash)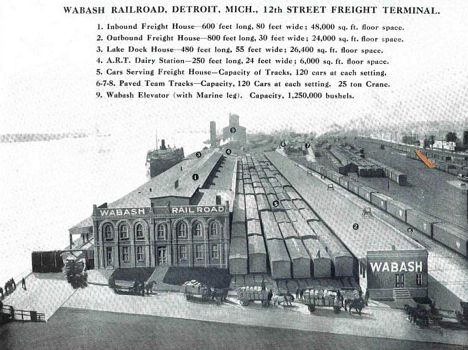 The Wabash 12th Street Freight Terminal was located along the river front and accessed via the Union Belt of Detroit, of which the Wabash was part owner.
Photo info: A drawing of the Wabash Railroad's 12th Street Freight Terminal in Detroit. This was located near the boat dock along the Detroit River off the Union Belt of Detroit line to downtown. [Alan Loftis collection]
Components of the terminal:
Inbound Freight House - 600 feet long, 80 feet wide, 48,000 sq ft of floor space.
Outbound Freight House - 800 feet long, 30 feet wide, 24,000 sq ft floor space.
Lake Dock House - 480 feet long, 55 feet wide, 26,000 sq ft floor space.
A.R.T. Dairy Station - 250 feet long, 24 feet wide, 6,000 sq ft floor space.
Cars Serving Freight House - capacity of tracks: 120 cars at each setting.
Paved Team Tracks - capacity: 120 cards at each setting. 25 tone crane.
Wabash Elevator (with maring leg). Capcity: 1,250,000 bushels.