Location: CP Salt, Detroit, MI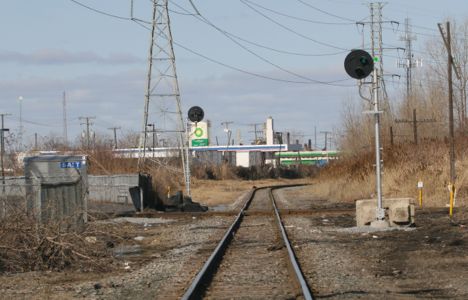 CP Salt is located north of Oakwood Blvd. and east of Schaefer Road in southwest Detroit. This is the crossing of the former Michigan Central Junction Yard Branch and a spur off the Wabash which ended near the Rouge River.
Photo info: Top, Conrail's Junction Yard Branch at " CP - Salt", where the Norfolk Southern Salt Spur crosses. This is located just north of Oakwood Blvd. in the City of Melvindale. For many years, the Junction Yard branch was double tracked and signaled, and this crossing was protected by a gated half interlocker. In the 1980's the second track was removed and later, the gate was replaced by 4-way stop signs. In January, 2006 an interlocking was put back into operation, with full sized signal masts on the Conrail land 4' tall dwarf signals on the Salt Spur. February, 2006 [Dale Berry]
---
Time Line
1935: The MC Junction Yard Branch, which was double tracked, had "station semaphores" near this location in both directions. These signals governed the crossover between the NB and SB mains; the junction switch with the DD&D Branch; and the Wabash Crossing (in addition to the gate protection provided at the crossing). The NB signal was just south of Oakwood Blvd., and the SB signal was about 900 feet north of the same street.