Location: Blaney Junction, MI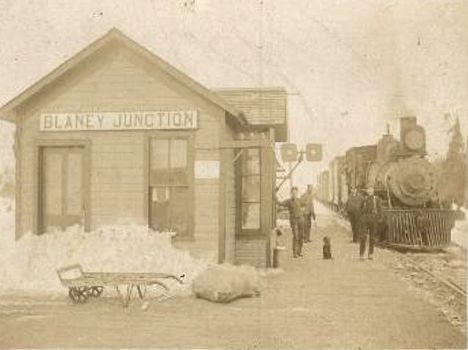 Blaney Junction was the southern end of the Blaney & Southern railroad which ran north from this location on the Soo Line railroad to the town of Blaney and into the forests of Schoolcraft County.
Photo Info/Credit: Top, the Blaney Junction depot with a Soo Line train in front. [Dave Fulkerth collection]. 2nd photo, another view of the "new" depot with a Blaney & Northern locomotive and train crew posing for a picture. The Soo Line tracks on the right go east towards Manistique. [Alan Loftis collection]
---
Timeline:
1917. The CMStP&P had an agent here on the day shift. [TRT]
January 28, 1959. Soo Line Wreck Rips Tracks at Blaney Junction.
No one was injured but there was extensive damage to cars and track in a derailment of 15 cars of Soo Line freight No. 15 that occurred at 12:15 p.m. Tuesday. The track was torn up for a quarter of a mile, thousands of sticks of pulpwood were scattered along the right of way, and long distance telephone lines were broken in the derailment whose cause has not been determined. The train was travelling west.
Wrecking crews were at work at the scene shortly after the accident and the main line is expected to be cleared and opened to traffic late today. Meanwhile, passenger trains No. 7 and 8 were rerouted over the DSS&A and LS&I through Eben Junction and back to Gladstone. Although delayed, the passenger traffic was maintained.
Forty-three long distance circuits of the Michigan Bell Telephone Co. were knocked out when the lines were broken at the accident scene. These circuits were to Sault Ste. Marie, St. Ignace, Detroit and Grand Rapids. [EDP-1959-0128]